World
53-Year-Old Man Killed With Catapult By His Neighbour Over Woman
Filasco DeGeneral
53-Year-Old Man Killed With Catapult By His Neighbour Over Woman
WORRYING: College Girl Chewing Outside By Vulcanizer Video Surfaces Online(VIDEO)
A middle-aged man met his untimely death at the hands of his neighbor.
Fabian who was having a conflict with his wife unleashed domestic violence on her and beat her to stupor she had to sort refuge at his neighbour's house.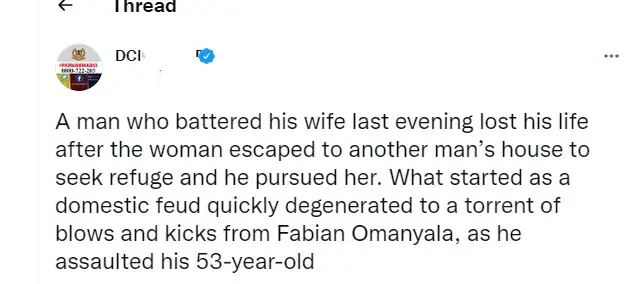 The wife, who was seeking refuge at a neighbor's compound after her husband unleashed anger and domestic violence on her, Mr. Fabian was beating his wife so stupid when she decided to run for her life and seek refuge in their neighbor's house.
Mr. Fabian, out of anger, followed her to their neighbor's house.
Fabian was killed by the said neighbor, identified as Robert, after his wife ran to him for help.
The couple reportedly got into a domestic fight, which quickly escalated with Fabian's wife running to their neighbor's homestead.
Mr. Fabian followed her to the neighbor's house to continue beating her when Mr. Robert came to defend the woman and launched a catapult and shot him in the forehead. Mr. Fabian fell and died. Mr. Robert is on the run.
ATIGYA: Popular Journalist Exposed By NDC, Shows His Name And Membership Number In Their Party's Register(EVIDENCE ATTACHED)